LUXURY RENTALS
Luxurious lodging accommodations posing a modern touch, lavish touches, amenities and pristine mountain views.
CABINS & HOMES
The whole family can enjoy the comfort of a home-away-from-home. Select from cabins in the woods, along the river or slopes or roomy mountain homes, all fully-furnished.
CONDOMINIUMS
When you want the convenience condominiums offer, then browse this amazing assortment of units ranging from studios to spacious penthouses.
Las Vegas 
–
Get the Amazing Las Vegas Strip Experience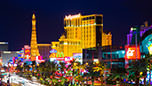 Great Deal for a Quick Vegas Getaway
4 Adventurous Days and 3 Nights
Find out what adventures await you in the heart pounding, non-stop excitement and glamour of the fabulous Las Vegas Strip. See all that Las Vegas has to offer. Save while staying at the Stratosphere right on The Strip and you'll have more money to spend on the things that Las Vegas is famous for – casinos, shows, fabulous restaurants and day trips to the Grand Canyon.
Orlando 
–
America's Family Playground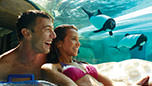 The Hard Part is Picking a Park!
5 Fun-Filled Days and 4 Nights
Orlando is the ultimate family vacation destination, and you'll stay at the Holiday Inn Resort, just minutes from Florida's Walt Disney World®, SeaWorld®, Universal Studios® and endless designer outlet malls.
rom Arizona to Orlando to Branson and more… 
–
Choose from 10 of America's Favorite Destinations!
Call Us to Pick Your Favorite!
Purchase 1 Night and Get 2 Nights Free!
Whether your pleasure is an inspiring nature trail or an indulgent shopping spree…a day in the surf or a night at the casino, you'll have a incredible mini-vacation at a sliver of the cost. Enjoy making memories at your own choice of ten of America's most popular destinations, from Tahoe to Williamsburg to Vegas and more.